Welcome to Greg and Mark's World Trip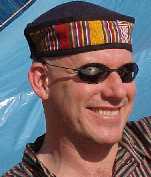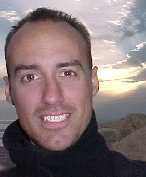 You've found your way to the web site that chronicles the World Trip of Greg Dutton and Mark Virtue, a twelve-month, largely impromptu trip by a couple of Australian backpackers through some of the world's exotic lands. We, Greg (left) and Mark (right), are writing this web site as we travel, for the benefit of anyone who's interested in what we're up to. We update it about once a month. This page serves as the Table of Contents for the whole site.
The trip started on November 20, 1998,
and is now over, having finished on October 25, 1999.
This web site has undergone its final update.
If you would like a copy of this web site on CD free of charge (complete with all photos), please email Mark.
The site is presented as a series of chronological episodes, each comprising a page of writings (often quite lengthy) and links to a few dozen digital photographs.
---
And here are the episodes, the trip so far:
Note: Each of the following pictures may be clicked on to reveal a full-sized version.
Episode 1: Mucking about in and above Kathmandu
November 25th, 1998 - 7Kb
This episode describes our flight from Sydney, our arrival in Kathmandu and our truly special hot-air balloon flight over the Kathmandu Valley. We over-enthusiastically posted all 68 photos, and wrote a simple synopsis of our whopping five days of adventure.
Note: The episode does not contain links to all the photos.
Episode 1
Just the 68 photos
Episode 2: The Lads and Dads Trek the Nepal Himalayas
December 19th 1998 - 31Kb
Here the travels (and the web site) truly begin. The four of us spent 21 days walking around the Everest region of the Himalayas, accompanied by a trekking crew of 19, whose job it was to attend to our every whim and desire. A fair-sized episode devotes itself to descriptions of most of the aspects of trekking in the Nepalese mountains.
Episode 2
Just the 50 described photos
36+14 lesser photos
Episode 3: Into Tibet, the Roof of the World
January 13th, 1999 - 50Kb
The Dads go home, and we embark upon the epic 1,000km road trip from Kathmandu to Lhasa, the capital of Tibet. We learned why this is considered one of the most beautiful road journeys in the world. This web page describes the departure of the Dads, Christmas in Nepal and our travels into the cold, high and inhospitable land called Tibet.
Episode 3
Just the 48 described photos
44+4 lesser photos
Episode 4: Mark travels Egypt, Israel, London and Ireland
February 22nd, 1999 - 81Kb
Left alone by Greg's temporary excursion to Australia, Mark flies to the Middle East and explores the ancient lands of Egypt and Israel, before scooting off to the British Isles to satisfy his insatiable hankering for cold and dreary climates. This episode represents Mark's first true attempt at the "Travel Writing" genre
Episode 4
Just the 32 described photos
26 lesser photos
Episode 5: Killing time in London
April 20th, 1999 - 49Kb
Expensive, cold and gloomy - London is the ideal place to spend six weeks awaiting the return of one's travelling companion - NOT! This medium-sized episode contains a brief account of Mark's travelling intermission in London.
Episode 5
Just the 23 described photos
11+10+4 lesser photos
Episode 6: Only in America
May 21st, 1999 - 87Kb
After a month or so of kicking around in that weird and wonderful country, the USA, anyone would need a holiday, and there's no place finer than the Caribbean. This episode describes Baltimore, New Orleans, Memphis, Nashville, Chicago, and ultimately the British Virgin Islands.
Episode 6
Just the 35 described photos
27+17 lesser photos
Episode 7: My time with the West Indians and the American Indians
September 6th, 1999 - 98Kb
Three months in the Caribbean, and then, unexpectedly, back to the States again to enrol in a Native American wilderness survival and philosophy course. All this, plus an unusual walk in the woods of Maine, is described on a pretty green background.
Episode 7
Just the 31 described photos
22+16 lesser photos
Episode 8: Wandering South America and the Spirit World
December 16th, 1999 - 128Kb
A month of adventures in South America, including wandering the Inca Trail in Peru, and biking the Uyuni Salt Flats in Bolivia, not to mention spending a couple of days in a Bolivian prison. Then it's back to New Jersey for two weeks to discover the true nature of the Native American spirit world. This episode, the final one and once again the largest so far, is accompanied by nearly 200 photos.
Episode 8
Just the 138 described photos
58 lesser photos
Epilogue: The Last Word
December 16th, 1999 - 47Kb
The trip is over. Here are some of my thoughts about the trip in general and how it feels to be back. I've also included several summaries of the trip's vital statistics, including the itinerary (with a map), finances, and other bits and pieces.
Epilogue
---
A fair amount of other stuff has accumulated over the months, as follows:
Bits and Pieces
All the Photos
Where to look if you're only interested in the photographs. All photo index lists display a mini preview version of each photo for faster browsing or searching. Some of the "killer shots" have been listed (for those of you that don't have time to hunt for them)
Appendix A
Mark's little ramblings
Appendix B
You guys make me laugh!
Appendix C
Some other writings and links you might be interested in
Appendix D
How to build a web site while travelling the world (non-technical overview)
Appendix E
Using a Palmtop computer to send email and build a web site (step-by-step technical instructions, with links to the software required)
Appendix F
Love: your thoughts. Responses I've had from you all about my ramblings on Love
Appendix G
The history of the development of this web site
Appendix H
A bit of nostalgia: The first incarnation of this web site - the primitive offering you would have seen if you had visited this site on November 30th 1998. Ugh!
---
If you are not currently receiving notification via email when this website is updated
(unlikely, now that it's completed), and would like to, please complete the form below:
---
You are visitor number
to this page.
Last Updated: January 23, 2005