Welcome to the epilogue. The trip is over, and I needed somewhere to insert a literary full-stop. This will have to do. Here you'll find my thoughts on the trip in general, how it feels to be back, and some (hopefully) interesting facts and statistics about the trip. Happy reading.
Here is the standard table of contents:
Note: If you haven't done so already, you might want to read Episode 8 first.
---
So why was I travelling? Well, I've written a lot about that in my Ramblings page (here), but the bottom line is: I was travelling to close down my old life and search for a direction for a new one. I no longer want to be a computer guy (training or otherwise). Something more satisfying, more soulful, more me was required. It's like when you want to know about someone's job - you ask them what they do. You don't ask them what they are. I'd like them to be the same thing.
So did I find it, that special thing? Well, yes and no. I tried my hand at writing, and I liked it. And I found it challenging and I found it confronting. Writing is creative and it's an expression of me, so it seems like a perfect candidate for a new career. But really, I don't know. Right now I don't feel any strong pull towards writing (or anything else for that matter), so I'm just going to see what develops. More about that later.
The trip was wonderful. Life-changing. At times it made my heart sing and I felt lucky to be alive. I found myself free and flowing happily along the River of Life. And of course, there were other times when I was downright miserable. Lonely. Lost. Pissed off with life. Sick of being me. In fact, when I look at the trip as a whole, there was a bit of everything. I feel now that I had the whole spectrum of experience. I didn't, of course, but it feels like it. And I'm glad about that, because if I'd been happy every day it would have been incredibly boring (and this web site would be incredibly dull). Personally I think we, as a species, spend far too much time chasing after "happiness." Everywhere we look we're told we can find it, and find it easily. Everyone on television is happy, and we come to expect that we will be too. It's even written into the American Constitution: "Life, liberty and the pursuit of happiness." We believe it's our birthright. And of course, most people are not happy all the time. In fact, I'd go so far as to say that noone is happy all the time. I'd be surprised if there were many people who were happy, really happy, even 50% of the time.
But we expect to, so we feel like failures when we're not.
It's like that song says, Don't read beauty magazines, they will only make you feel ugly.
I think it's all about feeling okay when you're having a bad day. When you're down at the depths of a truly shitty experience, looking at yourself and thinking, Whatever I may be feeling, I sure know I'm alive. And even feeling "happy" about the pain (or whatever it is). It's like going to a movie. Do you only ever go and see happy, funny movies? Of course not. You often deliberately choose movies that make you sad, angry, scared, excited, horny or educated. You even enjoy such movies. Why not the same for life? Because it doesn't say that in the Constitution.
Sorry, a got a little carried away there.
The point is, my trip was neither good nor bad - it was everything. Which, when you think about it, is really good.
You know what I mean.
But on to other things. Here are some highlights of the trip:
My favourite country: Nepal. By far (best scenery, happiest people, cheapest lifestyle, etc, etc).
The person I met whilst travelling that had the greatest effect on me: Elisa Bryan, the woman I met in the Caribbean.
My crappiest moment: Probably feeling lonely and sick in the hostel in Cuzco, or perhaps that moment in the Caribbean when I realised that my palmtop computer had crashed and I'd lost all the work I'd done on my novel.
The strangest place I visited: Memphis, Tennessee.
The most profound experience: The two Native American philosophy workshops in New Jersey.
My most challenging experience: The four-day Vision Quest I attempted in Maine.
Highest altitude: 17,100 feet (5,200 metres) in Tibet.
Lowest altitude: 1,300 feet (400 metres) below sea level, on the shore of the Dead Sea in Israel.
What was stolen from me during the trip: A$257 cash (in Bolivia), and a pocket travel thermometer (in Peru).
Body weight change: I lost 7 kilograms (16 pounds) while I was away (interestingly, within four weeks of being back, I'd put it all back on again).
---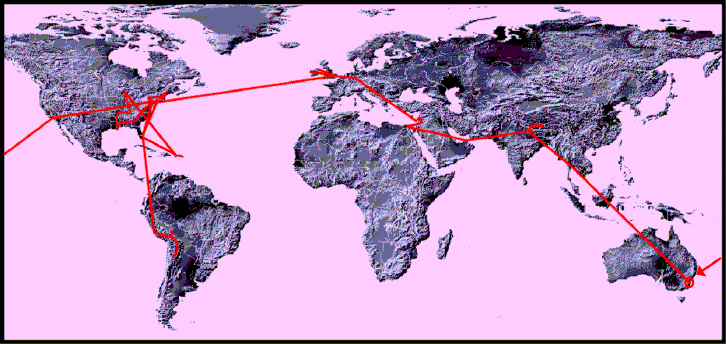 My most common question I get about my trip, now that I'm back, is, Where did you go? To save time, I usually just reply Everywhere. It's true that if Cairo is counted as being part of Africa (it is, geographically but not spiritually), then I visited every continent in the world (alright - except Antarctica). This answer seldom satisfies, so I get asked, So where did you spend the most time? Again, there's no simple answer. I spent a few months in many places. I suppose you could summarise the trip as follows:
Two months in Nepal and Tibet with Greg, my dad Gerry and Greg's dad Ross
Two weeks in Cairo and Israel
Two months in London, with side trips to Ireland
A month in the States
Three months in the Caribbean, on the island of Jost Van Dyke in the British Virgin Islands
Another month in the States
A month in South America (Peru and Bolivia)
Another two weeks in the States
...for a total of about eleven months. If you want even more detail than that, read on.
I had a bit of time on my hands in South America, so I compiled a list of all the countries I'd visited, and how long I'd spent in each one. One of the least appealing aspects of travelling is moving to a new bed almost every night, so I was also interested in analysing how long, on average, I really did spend in each place of lodging that I visited. I found out that:
I visited 17 countries (4 of them stopovers/transit, and 8 that I'd never visited before)
I slept 338 nights abroad (54 of them with Greg), in 85 different beds
I spent an average of 26 nights in each non-stopover country
I spent an average of 4 nights in each bed
I took 19 flights (take-offs and landings) on my round-the-world ticket for a total of 37,287 flight miles (60,007km), and 14 flights that were not part of my round-the-world ticket. I returned with 1,713 flight miles (and 25 days) left on my 39,000-mile ticket. The flight itinerary was as follows (not including stopovers):
Sydney - Kathmandu - Lukla - Kathmandu - Cairo (overland to) Tel Aviv - London - Dublin - London - Belfast - London - Washington (overland to) Nashville - Chicago - British Virgin Islands - New York (overland to) Boston - Lima - New York - Sydney.
---
I used an Excel spreadsheet on my palmtop to track my finances while I was away. All my travelling funds came from savings. I used four credit cards (Visa, MasterCard, American Express Gold and American Express Blue) to supply me with cash and purchases - nothing else. No traveller's cheques, no money transfers. Every transaction I made I entered into my spreadsheet, thereby allowing me to gauge how fast I was spending money and when I needed to make payments to my credit cards (which I did through National Australia Bank's Internet banking system (here)). I set up my spreadsheet to tell me when I would run out of money, given that I maintained my average rate of spending. It was also used to maintain exchange rates. If you want to see a couple of screenshots of my spreadsheet, click here and here.
While abroad, I used 10 currencies: Baht (Thailand), Rupee (Nepal), Yuan (China/Tibet), Pound (Egypt), Shekel (Israel), Pound Sterling (England and Northern Ireland), Punt (Ireland), US Dollar (United States, British Virgin Islands and US Virgin Islands), Sol (Peru), and Boliviano (Bolivia)
Before I left Australia, I spent A$3,300 on buying my round-the-world airfare, and another $900 on a going-away party (Greg put in another $900). During the 339 days I was away, I spent a total of $32,089 on travelling (at an average of A$94.66 (US$60.58) per day), and had $337 stolen. When I returned, I had $476 left (it would have lasted another 5 days). When you do the maths, this means that I spent a total of $36,150 on the trip, including the airfares.
(Incidentally, within a week of returning I had spent $5000 on a new computer and getting my car back on the road - all on the magic credit cards.)
I was also asked what was the cheapest and most expensive countries that I visited. Well, this all had a lot to do with what I was doing in them. Nepal would have been the cheapest, except we spent three weeks on a trek (at A$80 per day), stayed in a nice hotel whilst in Kathmandu, and bought many Christmas presents. So the cheapest ended up being Israel (largely due to the way I was living there), even though it seemed exorbitantly dear compared to Nepal, Tibet and Egypt when I arrived. The most expensive was the UK. By far. London is just an awfully expensive place to live. The States would have been a lot cheaper had I not enrolled in those three weeks of Native American workshops at almost A$1100 per week.
The full table of expenses is detailed below:
| | | | | | |
| --- | --- | --- | --- | --- | --- |
| | Country | Total spent | Days there | Cost per day | |
| | Nepal/Tibet | $ 3773.00 | 53 | $ 71.19 | |
| | Cairo | $ 247.52 | 4 | $ 61.88 | |
| | Israel | $ 631.33 | 17 | $ 37.14 | |
| | England | $ 5910.80 | 48 | $ 123.14 | |
| | Ireland | $ 627.45 | 7 | $ 89.64 | |
| | USA | $ 8043.00 | 78 | $ 103.11 | |
| | Caribbean | $ 8081.53 | 99 | $ 81.63 | |
| | Peru | $ 710.00 | 13 | $ 54.62 | |
| | Bolivia | $ 977.70 | 18 | $ 54.32 | |
| | TOTAL | $ 32,089.43 | 339 | $ 94.66 | |
| | | | | | |
---
While I was away, I read 43 books, not including travel guides, which translates to one every 8 days. I was fortunate, I read very few bad or even average books. What the hell - I think I'll give you my opinion on each of them. Here they are, alphabetically by Author's first name.....
Fiction
The Beach, by Alex Garland - A stunning first novel by a young British backpacker. It has recently been made into a movie starring Leonardo DiCapprio. A backpacker in Bangkok is given a map to a secret Thai island - an undiscovered paradise on Earth inhabited by a small tribe of ex-backpackers. Very Lord-of-the-Flies-ish, and very good.
The Tesseract, by Alex Garland - His second novel (more a novelette, really). Set around a gangland murder in the Philippines, it's well written but fails to satisfy by the virtue of its lack of substance.
The Little Prince, by Antoine de Saint-Exupery - a gorgeous little fable about a young prince that lives in the stars and visits Earth. Beautiful illustrations and a beautiful story.
The Alienist, by Caleb Carr - the fictionalised version of the tracking of the first serial killer. Set in New York at the turn of the Twentieth Century, it describes the work of a psychiatrist (called "alienist" in those days) and his team as they track the deeds of a murderer who focuses on young male prostitutes. Not bad. Good period stuff, but essentially forgettable.
The Garden of Eden, by Ernest Hemingway - His last novel, finished after he died. It tells the story of an unusual love triangle on the French Riviera in the Thirties(?). A haunting novel and a must-read for all writers or romantics.
Crime and Punishment, by Fyodor Dostoevsky - the classic tale of a young man unravelling in St Petersburg in the Nineteenth Century.
The Wasp Factory, by Iain Banks - Banks's first novel, and what a warped mind! He tells the story of a teenage boy on the Scottish islands - one of the sickest protagonists ever to grace the pages of a novel. Very, very good.
Eva Luna, by Isabel Allende - What can I say? A book so beautiful I was moved to tears. Allende writes like music. She tells the story of Eva Luna, a young woman growing up in a volatile Latin American country. Not usually my cup of tea, but I loved every word.
The House of the Spirits, by Isabel Allende - Eva Luna was a hard act to follow. This is more of the same, but not quite up there.
The Skook, by J. P. Miller - One of my all-time favourite books. I read it whilst away for maybe the fourth time. An adventure/fantasy/romance about an average man's love for his beautiful wife, and the ordeal he goes through to realise it.
A Confederacy of Dunces, by John Kennedy Toole - Set in New Orleans, this is a comic tale of one of the most asocial characters ever created. Extremely well-written, but the humour in it didn't really appeal to me as much as it could have.
Extreme Measures, by Michael Palmer - Fairly standard medical thriller. Good but not great. It's now a movie with Hugh Grant and Gene Hackman
The Physician, by Noah Gordon - huge sweeping epic about the life of an orphan in the Eleventh Century who grows up to become one of the finest physicians in the world. Not bad. Certainly fills a week.
Ender's Game, by Orson Scott Card - One of the best three books I've ever read, and certainly the finest science fiction book. It's the story of a six-year-old boy (Ender) that is selected to be trained to be the commander of the Earth's space navy as they do battle against an alien race. I can't recommend it highly enough, especially to all those people that think science fiction is all rubbish.
Perfume, by Patrick Suskind - Another flawless book. The delicious tale of a rather strange individual growing up in Seventeenth Century Paris. Read it - I don't believe you could fail to thoroughly enjoy it.
The Alchemist, by Paulo Coelho - the definitive book on following your destiny. A young shepherd in Spain, several hundred years ago, has a vision that he will find his life's meaning at the Egyptian pyramids. A classic - it changed the whole fabric of my trip.
Starship Troopers, by Robert Heinlein - This was a sci-fi classic and quite controversial once upon a time. It's a little dated now, but I wanted to see the movie, and I used to be a big Heinlein fan, so I thought I'd read it again. I still haven't seen the movie....
Island in the Sea of Time, by S. M. Stirling - I love books on time travel. When I read the synopsis of this book, I was pissed off, because it was virtually the same idea as one I'd had myself several years ago but never actually wrote. It's a lovely idea - so full of potential - but he just lost the plot (literally) about halfway into the book. Don't bother.
The Collector Collector, by Tibor Fischer - one of those books that seems light and fun (and hilarious) on the surface, but actually has quite a lot to say about the human condition. It's about a vase - an antique clay jug - that narrates the story of several of the people that have collected it over the centuries. A surprise and a delight. Two big thumbs up.
Jitterbug Perfume, by Tom Robbins - Tom Robbins always writes the most enjoyable, delightful fluff on the market. This book is no exception. Spanning several centuries and continents, we learn the meaning of life and the true nature of goat sweat.
The Ascent of Rum Doodle, by W. E. Bowman - the classic parody of all British mountaineering expeditions. It's only a little book, but if you've ever been trekking or mountain climbing, you'll find it priceless. It's so dry and understated that if you didn't know any better, you'd think it was a true story.
The Book of God, by Walter Wangerin - "The Bible as a novel." That about sums it up. For all those people that are interested in the Christian Bible, but haven't got the stomach for all the Thee's, Thou's, and everyone begatting everyone else. It works - mostly.
The Color of Light, by William Goldman - If you've ever had aspirations to be a writer, you must read this book.
True Accounts
A Walk in the Woods, by Bill Bryson - Bill Bryson is, without a doubt, the funniest travel writer in the world today. His book The Lost Continent - Travels in Small-Town America is one of the funniest books I've read. I decided to read some more of his stuff to get me in the mood for my own travel writing. This is his account of walking the Appalachian Trail with his unbearable buddy Katz.
Neither Here nor There, by Bill Bryson - His account of his younger days travelling in Europe.
Notes from a Small Island, by Bill Bryson - His travels in Great Britain.
Into Thin Air, by Jon Krakauer - The finest book on real-life outdoor adventure that I've ever read. It details the 1996 Everest disaster (which he was part of). It changed my life. I read it for the second time while trekking in Nepal, visiting some of the places mentioned in the book. Read it, even if you don't give a shit about mountaineering (like me).
Into the Wild, by Jon Krakauer - A true story about a young man who, unsatisfied with life in his comfortable home, abandoned all his worldly possessions and walked into the Alaskan wilderness to attempt to live off the land. He died. Not a bad story, but not a great one either.
A Civil Action, by Jonathan Harr - The story of an enormous lawsuit, one of the first of its kind, brought against a chemical company for contaminating a town's water supply in the States in the Sixties. Disappointing.
Zen and the Art of Motorcycle Maintenance, by Robert M. Pirsig - A philosophy for the late Twentieth Century. The story of one unusual man's motorcycle journey across America with his son, in search of ..... himself. It improves with age. This was the second time I read it, and I got much more out of it than the first time. It can get a little heavy, but it's worth it.
The Tracker, by Tom Brown Jr. - If you have any interest in the stories I've been telling about the Native American School that I spent three weeks in during my trip, this is the tale of the early life of the man that founded the school. And it's a truly remarkable story. Essentially, he's a young boy (seven years old) who is virtually adopted by an eighty-year-old Apache and taught all the ancient Native American ways.
The Vision, by Tom Brown Jr. - Brown's introduction to the teachings of Grandfather (his old Apache mentor) and the practice of the Vision Quest.
Science/Philosophy/Spirituality
The Tao of Pooh, by Benjamin Hoff - A wonderful way to learn about Taoism (pronounced "Dowism"). Hoff recognises Winnie the Pooh as one of the great Taoists of the modern era, and explains this ancient Chinese Philosophy in terms of the exploits of our favourite bear. Perfect for anyone who wants to learn about "going with the flow."
From Atlantis to the Sphinx, by Colin Wilson - A well-researched investigation into the possibility that the ancients may well have thought entirely differently from modern-day man, and that we may not be the first example of civilisation on the planet. It talks substantially about the ancient Egyptians.
The Fabric of Reality, by David Deutsch - An attempt to provide a "grand theory of everything," tying together Quantum Mechanics, Virtual Reality, and a couple of other surprising fields of human endeavour. It looked like quite a good idea, but I couldn't entirely understand it.
In Search of Schrodinger's Cat, by John Gribbin - a "layman's" look at Quantum Mechanics. It's good, but actually quite heavy, written for all laymen with a degree in pure physics.
Conversations with God, vol. 3, by Neale Donald Walsch - The third book in the series of books that changed my life. I know that sounds clichéd and would probably even turn many people off the books, but I consider them a must-read for all people that have questions about spirituality (even people who subscribe to common religions). The series chronicles one man's accidental dialogues with the Supreme Being.
Shadows of the Mind, by Roger Penrose - In which the fact that there is a soul is proven mathematically. Not for the mathematically challenged.
Instruction Books
Travel Writing and Photography, by Guy Marks - Not too bad at all.
The Artist's Way, by Julia Cameron - a fantastic book to help you discover (or recover) your creative (artistic) abilities.
Writing a Novel and Getting Published, by Nigel Watts - Again, not too bad.
The Calm Technique, by Paul Wilson - Meditation 101.
Awakening Spirits, by Tom Brown Jr. - More Native American stuff - this time learning the secrets of their dynamic meditation, as well as an introduction to the spirit world.
---
Email
My Hotmail account certainly got a workout while I was away. I wrote and sent 648 emails, and received 982 (nearly three per day), substantially more than the amount I'd received in the three years leading up to the trip put together. I filled (and emptied) the two-Megabyte limit on my Hotmail account three times (I never delete emails, sent or received).
The champion emailer, the person who wrote to me the most, was - wait for it - Paul Klemes, with 92 emails (or two emails a week, on average). Thanks Paul - keep 'em comin'.
Web Site
This web site was not planned before we left Australia. It was Greg's purchase of a digital camera in Bangkok Airport that made it possible - started the creative juices flowing. Four days after reaching Kathmandu we posted all the photos - because we could - and then of course they needed some commentary to go with them. That commentary (of which you're reading the last few paragraphs) steadily became more and more important to me, to the point where the photos were almost incidental. I looked forward to writing a new episode every couple of months. It was my project. It added a flavour to the trip that was totally unexpected.
Looking back on it, I'm so glad to have done it (the web site, that is). For me, it is a wonderful record of our trip away, sort of like a journal - a great big public one.
In case you're interested, we took 1488 photos with the digital camera (roughly four per day). 714 of these have been posted on this web site, and another 15 on Rhett Gladman's home page. The rest were deleted.
Considering that this web site started as a single list of digital photos accompanied by an email sent to all our friends, this site has come a long way. There are now 42 HTML files (separate web pages) in this web site, totalling 1.39Mb (not to mention the several hundred automatically generated ones in the photo catalogues). The content of 27 of them was written by me during the trip (780Kb), which is a fair amount of writing in anyone's language, especially when I was supposed to be off seeing the world. The size of the entire web site - all HTML pages plus all 714 photos (plus miscellaneous files and thumbnail images) - runs to over 53 Megabytes. I printed it all out yesterday - the episodes, introduction, epilogue, ramblings and love responses ran to 140 finely typed A4 pages. Sheesh! It's long enough to be a book.
---
I've certainly gotten the travelling bug out of my system. For a while, anyway. I have no plans to pick up and travel again, but then again, I have no commitment to staying in Sydney, either. I'll just see what turns up.
I've been back for seven and a half weeks now, and I haven't worked a single day. My credit cards are bulging, but it doesn't seem to matter too much. Something will turn up, work-wise, but not until the new year, I'm sure of that. It's great to be back, and not a shock to the system at all. I've been taking it easy, seeing friends, enjoying being in Sydney in summer, and totally ignoring all my resolutions to get fit, healthy and spiritual.
Greg and I met up again the day after I returned. We met, unsurprisingly, naked in the Korean Bath-house (where we were very careful not to let our reunion hug go on too long). He and I are as close as we've ever been, and there's no ill feeling about his not returning to join me on the trip. After all, we've got the rest of our lives for such things. Shortly after I returned, Greg had to go off on a business trip around Australia for ten days, visiting Adelaide, Perth and Brisbane. He didn't want to go alone, so he asked if I wanted to accompany him, business class all the way, of course. How could I refuse? And so we went, and we got to spend some quality time together at last.
Sydney, surprisingly, has changed. We're gearing up for the Olympics in September, not to mention the Millennium in a couple of weeks (sounds funny to say it like that). There have been major changes to Sydney's roads and buildings in a mad scramble to fix all our traffic and aesthetic problems before the guests arrive. In spite of all the improvements, Sydney's traffic is worse than I remember it. It hardly affects me, though, as I usually never drive during peak hour. I look at everyone madly rushing around, going to work, etc, etc, and I don't feel a part of it. I feel like I'm outside the society looking in. And it's more than my simply not working, it's like I can no longer get concerned about the little things in life. And there are so many little things in life to get caught up with! A year travelling does that to you - you finally get to see the wood for the trees, and I'm very glad of it, too.
I'm living with my parents, a very cost-effective solution for me at the moment.
I've bought a new computer, and have been using it to slowly work on this web site. The computer has a CD-ROM burner, so I've been madly downloading songs from the Internet and creating compilation CDs for myself (it also allows me to make copies of this web site on CD-ROM for anyone who wants one, costing me only A$3 per disk).
I plan to do another Vision Quest between Christmas and New Year's Eve. I'll try for the full four days this time, and I should be more likely to succeed. I learned some stuff about Vision Quests while I was at the Philosophy courses, and I'll be more suitably equipped next time. Greg is going to do one simultaneously.
Interestingly, when I got back, I immediately noticed that my short-term memory was shot. I'd forget everything - appointments, conversations, even what I'd just done five minutes before. I suspect it had something to do with coming off twelve months of not having to remember stuff like that, particularly seeing as the final two weeks were spent attempting to shut down my logical mind and meditate. It's come back now (my memory, that is)
In summary, I'm very much in going-with-the-flow mode. Whatever turns up, turns up. I'm not trying to control my life at the moment, and that's a very lovely, freeing way to be.
---
To all of you who have been reading this web site, thank you. It means a lot to me that people take the trouble to come by here and read what I've written. It has made the trip feel that much more real knowing that other people are experiencing it through my eyes. Thanks for your feedback, your comments and your support.
I won't be writing any more additions to this web site. But the writing urge is well and truly in my system now, so I suspect there'll be more to read sooner or later.
Thanks again,
Mark
December 16th, 1999.