About Mark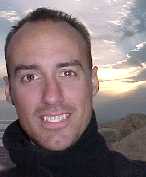 My name is Mark Virtue. I am 35 years old. I live in Sydney, Australia and have a history of long trips, mostly via bicycle, including a 1000km ride from Sydney to Brisbane when I was 15 years old, and a six-month, 12,000km ride around North America and Europe in 1990. In December 1998 I completed a three-week trek through the Himalayas, so I'm figuring that the little ol' mountains here in Australia won't be too much of a problem, even if I do start below sea level.
I love hearing from visitors to my web site. You can contact me here.
For a long while now, I have intended to do something useful for Sydney's homeless. This is the first time I have acted on that intention. The idea for this walk came to me several years ago, and I thought to myself, "Yeah, that would be a pretty cool thing to do ..... one day," and promptly forgot about it. In May 2000 I remembered the idea again and couldn't think of a good reason not to do it so off I go.
It's kinda interesting to note that, for the past few weeks now, I've been homeless myself, although not quite in the sense that the people that Mission Australia help are homeless. I'm living in my van, and actually quite enjoying it. It's poetic, I suppose, that one of Sydney's homeless should be doing something for Mission Australia.....
If you're interested, I travelled the world for twelve months recently, and maintained a web-site describing my wanderings for my friends and family back home. You can find it at