Stop Press - Photos Available!
Photos from the party are available here.
A most excellent 360-degree Virtual Reality panorama is available here.
If you're here, you must have received your invitation to
Mark's 40th Birthday BBQ and camping.
Here are the details....
Jaki and James (Mark's sister and brother-in-law) hereby invite you to the BBQ/party
they are holding on their 120-acre property in the Blue Mountains (picture below),
featuring their famous Cinema Under the Stars.
It's a family day (and night), so bring the little ones. There'll be at least 10 kids there.
Many people will be camping on the property, or there are alternative accommodations nearby.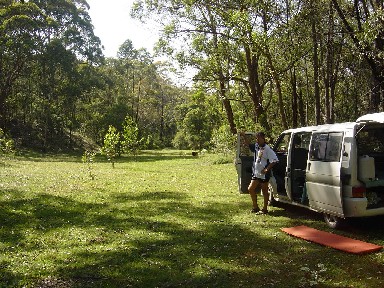 Click on the picture for a hi-res version
When
Saturday, October 9th.
The gathering starts at 2pm, and continues overnight.
Many guests will be camping on the property.
It's Election Day, so don't forget to vote before you leave.
Mark's actual birthday is on Wednesday, October 13th (he turns 40).
Where
The property is in the Megalong Valley, down the hill from Blackheath in the Blue Mountains west of Sydney.
It is about 100km from Sydney's centre, and the drive takes about 100-120 minutes.
Directions to the property can be found here.
The Day
Fun and games throughout the day.
There will be a BBQ in the late afternoon.
In the evening the movies begin!
James has created a vast screen for showing movies on.
He connects a DVD player to a projector and voila! An outdoor cinema to rival a drive-in!
There will be several fires (in 40-gallon drums) to keep everyone warm.
The cinema experience will begin at dusk with a movie for the kids,
followed by a crowd-pleaser for the "grown-ups".
Bring
Meat for the BBQ, and drink.
Your kids - there will be much for the kids to do and many other kids to do it with.
Balls, bats, etc for soccer, cricket, etc.
Camping equipment
Chairs to sit in
Insect repellent
A torch
Alternative Accommodations
Some suggestions:
Kanimbla View Environmental Retreat
Blue Mountains Web
RSVP
Jaki Virtue: (0410) 344181 or jaki.virtue@db.com
Please RSVP - we need to know numbers!!!